The most common type of international film industry cooperation happens through the notion of co-production. Co-productions are based on the collaboration between two or more producers from different countries for the creation of film and television programs.
Australia has currently established treaties with the United Kingdom, Canada, Italy, Ireland, Israel, Germany, Korea, South Africa, Singapore and China, and Memoranda of Understanding with France and New Zealand in regards to the creation of diverse content. Whereby co-productions can be recognised in providing the access to bigger and foreign markets, the ability to pool financial resources, access to the partner government's incentives and subsidies and the increase in the quality of production.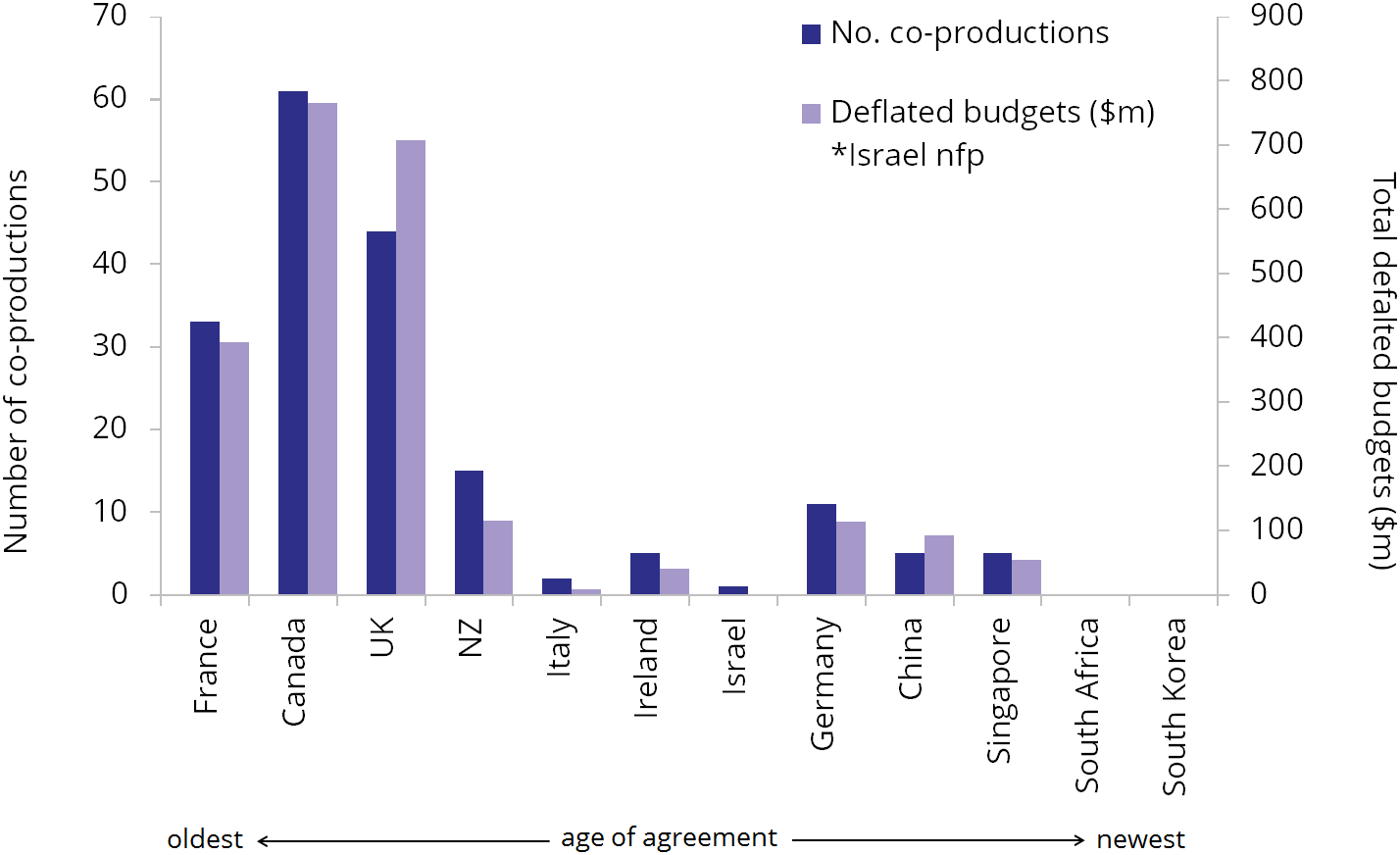 On one hand they have financial, artistic and marketing advantages for the film but on the other hand, they involve some risks in relation to management of the project.
"Creating a balanced structure both for day to day management and financial liabilities of parties is crucial for the co-production. If this balance is not established on a fair basis, even the co-producers with good intentions might find themselves in a dispute. " – (Birsin, 2016)
Through memorandums of understanding and proposed treaties between countries there are specific guidelines that can occur during a co-production's progress. Yecies' states there are two underlying intentions and justifications between these agreements; one being the motives for economic benefits and the other aiming for collaborative and converged cultural experience (Yecies, 2009).
On average, the budget of co-productions undoubtedly exceed the budget of those committed domestically, because of the multiple stakeholders contributing to the creation of content. There are addition complexities such as translation, travel and legal costs, driving the costs higher and higher every time something major and/or minor happens. This means that because of the constant rise and heightened costs of these sorts of productions it dictates that these types of stories and projects must accompany accordingly (Screen Australia, 2016)
This has led to films such as 'I-Robot', 'Superman Returns' and 'Mad Max: Fury Road' (which was the second highest grossing Australian Film ever, though did not depict Australian culture) to embody such success through a co-produced system. Though, there is a risk and observation that economic aspects of co-productions are made a bigger priority rather than the conservation and reinforcement of Australian culture both in the film industry and in terms of national identity. For a film to be considered Australian by the Cannes film festival standards, it relies on the Producer's nationality (Rosen 2014). The film 'The Piano' was written, filmed and directed in New Zealand but produced by an Australian, technically making the film Australian. Is Australia's involvement in the these representations make the films Australian or encompass true Australian culture?

"Co-productions have the potential to reflect upon globalization processes, such as the hybridization of cultures and their diversification; however, due to their commercial focus, they target international audiences as consumers rather than citizens."  (Baltruschat, 2002)
Co-productions seems to be evidently one of the most successful avenues offered to Australian box office – breaking through a domestic barrier and reaching out to new and more immense grounds. However, through speculation there has been a representations and co-produced input by Australia that has resulted in a richer story, financially rather than culturally. 
REFERENCES:
Baltruschat, D 2002, 'Globalisation and International TV and Film Co-productions: In Search of New Narratives', Media in Transition 2: Globalisation and Convergence, pp 1-19, date accessed: 12 Sept 2016 <http://cmsw.mit.edu/mit2/Abstracts/DorisBaltruschat.pdf&gt >
Birsin, S. (2016). Risks And Advantages Of Co-Production Agreements – Media, Telecoms, IT, Entertainment – Turkey. Mondaq.com, date accessed:12 Sept 2016 < http://www.mondaq.com/turkey/x/464396/broadcasting+film+television+radio/Risks+And+Advantages+Of+CoProduction+Agreements

Rosen, B 2014, 'Is the Great Gatsby really an Australian film?', Daily Telegraph, 30 January, date accessed: 12 Sept  2016, < http://www.dailytelegraph.com.au/news/opinion/is-the-great-gatsby-really-an-australian-film/story-fni0cwl5-1226813252222>
Yecies, BM 2009, What The Boomerang Misses: Pursuing International Film Co-Production Treaties And Strategies, n.p.: Research Online, Research Online, EBSCOhost, date accessed: 12 Sept 2016